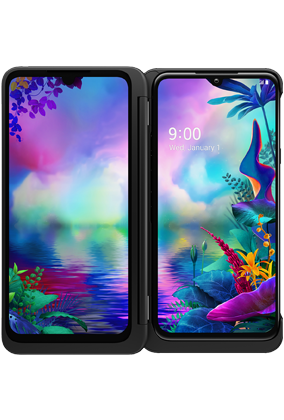 LG
LG G8X ThinQ (Black 128 GB)
Capacity:
Payment Options:
Appalachian Advantage Price
$16.67*
Annual Agreement Price
$99.99**
*Appalachian Advantage pricing is a per-month charge over the span of 36 months and does not include service charges.
**Annual Agreement pricing requires a two-year agreement and is paid up-front.
Ways to Buy:
Appalachian Wireless Retail Stores
Authorized Dealer Locations
Where is the online ordering option? Our online ordering option is temporarily unavailable while we work to create an incredible new online shopping experience we hope to share soon!
The LG G8X ThinQ
TM
and LG Dual Screen doubles your screen real estate giving you the ability to do multiple things at once. Run multiple apps at once to discover entirely new and seamless ways to watch, share, and shop. Turn one screen into a control pad to gain an edge over other gamers. Or, use that screen as a viewfinder to breathe new life into your photography. With so many to multi-task, LG G8X ThinQ
TM
and LG Dual Screen will transform your mobile experience.
Qualcomm® Snapdragon™ 855
32 MP front-facing camera
12 MP & 13 MP rear-facing cameras