Appalachian Wireless deploying Connection Relief: Free Wi-Fi, Charging Stations, and phone service will be offered in the most impacted areas of the region.
Recently, our region has been devastated by the rising waters that have taken so much from our communities. We have watched as our friends and families endure horrible devastation. Days later, we are still picking up the pieces and navigating this challenging situation together.
We know how important staying connected and having connectivity is during these events. That is why the team at Appalachian Wireless will offer in the areas impacted the most (Breathitt, Perry, Letcher, Knott, Clay, and regions of Floyd and Pike counties) communication relief assistance effective immediately. Appalachian Wireless will deploy communications relief by incorporating free Wi-Fi capabilities, charging stations, and mobile phones available for use in specified retail stores.
Individuals and families are encouraged to go into one of the designated Connection Relief retail locations and receive free communication resources. We want our customers/families to focus on healing, recovery, and restoration. Communication is needed to get the required help and connect with family and friends, and our team is ready to help assist you.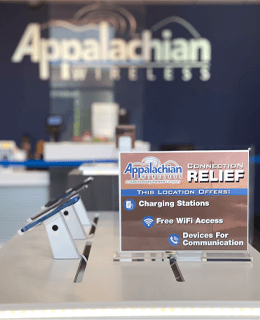 Connection Relief Retail Locations:
Ivel
Hindman
Jackson
Whitesburg
Hazard
Hazard South
Pike Co - Coal Run
Pike Co - Commons
Pike Co - Downtown
Manchester
Ameri-Cash - Minnie, KY (Dealer)
Ace Hardware - Jackson, KY (Dealer)
Since the events that occurred last week, our focus at Appalachian Wireless has been to restore service as soon as possible while alerting areas affected by the outage and maintaining our employees' safety.
"Once the initial shock was over, we quickly assessed the severity of the issues. Unfortunately, due to extenuating circumstances, we would need our employees to work in conditions that, to be honest, would worry anyone. When you would normally send employees home, here we are, asking ours to work to help the people we so proudly serve. However, what seemed impossible at first, our team was able to rebuild and restore within days. It's that same spirit that we know the same folks impacted in these areas have: grit, resilience, and determination!"
— Darlene Howell, Customer Relations Director
The connectivity at Appalachian Wireless was temporarily hindered, with 107 sites without network capability on Wednesday, July 27, 2022. Our technical operations team worked resiliently day in and day out to restore every site they possibly could. This outage presented challenges that required us to find alternate routes and backup deployment to get services restored. During the initial response period, techs worked 18-20 hr. shifts. At the same time, some endured flooding at their homes; others were forced to take short rest periods alongside roadways. Nevertheless, the technical team ALL kept going without pause or cessation to get everything back up.
Thursday, July 28th: by 3:28 PM, technical operations had restored 93 of the 107 sites.
Friday, July 29th: by 5 PM another ten more sites online.
Saturday, July 31st: by 11 PM, technical operations had all remaining sites brought online, and service was restored to those in the affected areas.
During our initial response period, sites were powered by generators that required around-the-clock maintenance and evaluation of site status. Our technical team members created fixes for sites with little to no infrastructure left in order to get all sites reconnected on the grid. The grit and determination to do whatever it took to repair service were of the utmost importance, and we appreciate all their effort and hard work.
To our friends, families, and communities of Appalachia, WE ARE HERE, and we aren't going anywhere; months down the road, when we are still picking up the pieces, we will still be right here, ready to lend a hand.
"I'm not sure anyone can imagine the devastation that these communities and hollows endured. We think we know from what we have seen in pictures from news outlets and social media, but until you see it firsthand, there are no words. Our techs have worked at these sites for years; according to them, some of these places are unrecognizable. We understand the fear and hurt people are experiencing and want to help do our part. We will continue to be right here serving our communities."
— Mike Johnson, Assistant CEO
Our hearts and continued thoughts go out to those who have lost loved ones, homes, possessions, and displaced loved ones.
We are YOU. We are Appalachian Wireless!